It's hard to find really good spaghetti squash recipes. When I got a Spaghetti squash in my Wickham Farms CSA share, it sat around the house for 2 weeks before I finally decided to do something with it.
But, boy, I'm glad I finally did.
I came up with an easy, vegetarian (vegan if you leave off the cheese), healthful 1-dish meal that can be made in under 10 minutes – perfect for busy nights.
In fact, to keep prep easy during the week, I have a little ritual I do when I get the squash home. Even if it's eight'o'clock, I'll slice the squash in half, drizzle it with olive oil, and roast it in the oven for 30-45 minutes at 400°.  When it cools, I just scrape out the flesh and put it in a container in the fridge. Then, when it is time to make this dish during the week, I can just pull it out and throw it in.
Spaghetti Squash Recipes: Pesto "Spaghetti" Recipe
You'll need:
1 spaghetti squash, roasted, cooled, and the flesh scraped out
1 can of drained canellini beans – I used the Tuscan flavored canellini beans from Wegmans, but any are fine
2-3 tbsp pesto – either homemade or prepared
Sprinkle of parmesan cheese for garnish (optional)
Here's what to do:
1. In a skillet heated on low, add the pesto.
2. When it starts melting, add the beans and stir continuously until warmed through.
3. Finally, add the spaghetti squash. Continue stirring until everything is combined and heated through.
4. Serve with a sprinkling of parmesan cheese, if desired.
Get all the deals, frugal lifestyle tips, and healthy living hacks delivered to you by signing up here.
This post is part of #15MinuteSuppers!
Find more about us at 15MinuteSuppers.com | Facebook | Twitter | Instagram
Note: I get my produce from Wickham Farms. You can Learn more about Wickham Farms here and check out all my favorite CSA-friendly recipes.
Wondering what to do with all that fresh produce? Here are some resources that may help:
Wickham Farms CSA Pinterest Board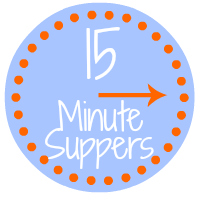 I'm so excited to be joining with a great group of bloggers every week to share 15 Minute Suppers with you. 15 Minute Suppers is all about getting supper on the able quickly with a homemade meal. All of the recipe shared are super easy take only 15 minutes or less to get on the table. Our lives are so busy that sometimes it's hard to find time to sit down together at the table for supper. Well, say bye bye to the 30 minute suppers and HELLO 15 Minute Suppers!
Follow 15 Minute Suppers on Facebook | Twitter | Instagram | Pinterest
and look for the #15MinuteSuppers hashtag too
You have to check out these 7 fabulous 15 Minute Suppers:
Easy Taco Burgers from Around My Family Table
Cajun Chicken Alfredo from Monzanita's
Sesame Chicken Salad from Better in Bulk
Homemade Beef & Bean Chili from How To This And That
Italian Couscous with Sausage from Suburbia Unwrapped
Paleo Shrimp Salad Recipe from Confessions of an Overworked Mom
Healthy Pesto "Spaghetti" from Mindfully Frugal Mom
If you are a blogger and you'd like more info, please check out the 15 Minute Suppers website or ask to join the Facebook group to participate on Fridays…we'd love to have you join us.
Pin It